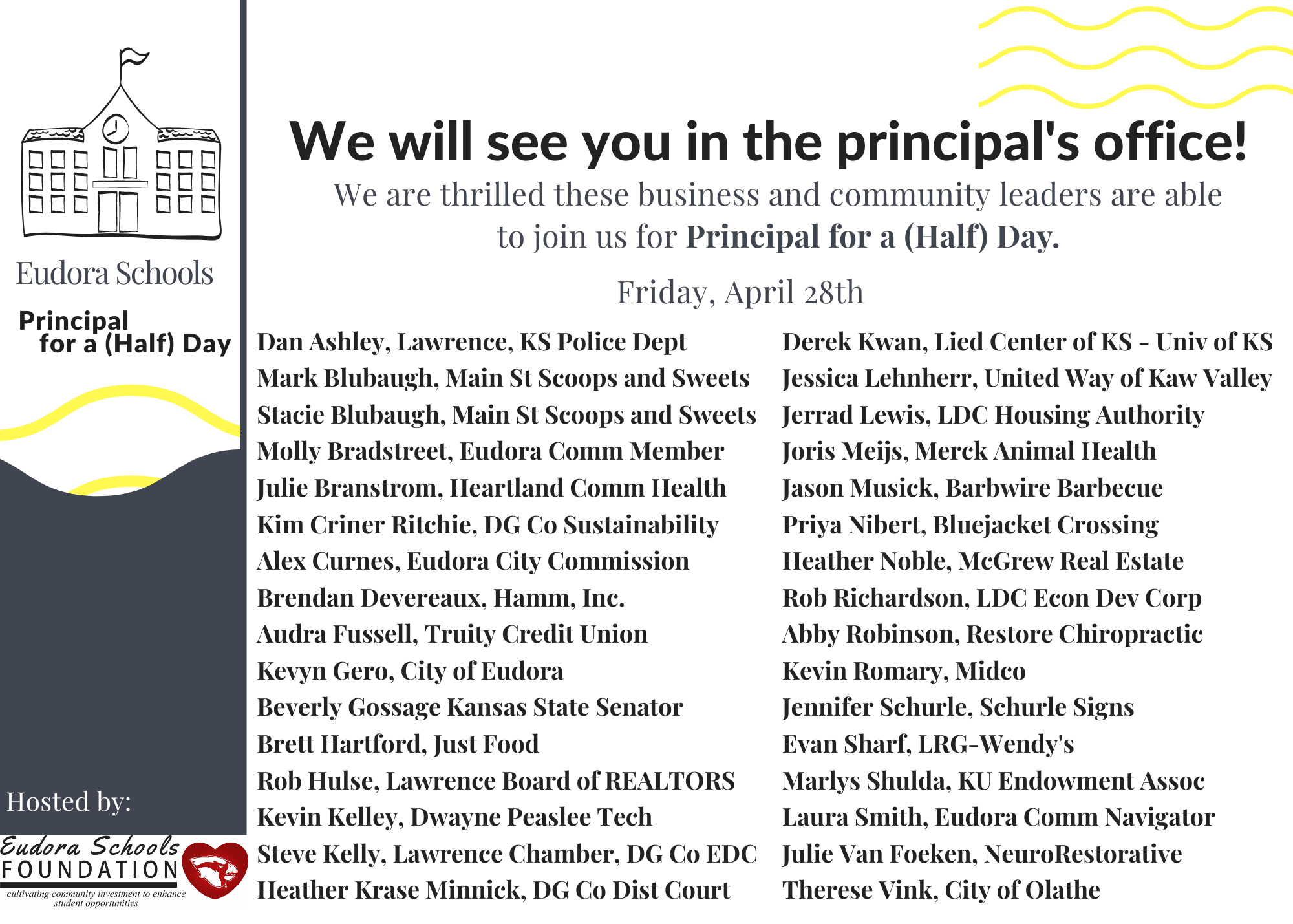 Friday, April 28, 2023; Eudora, KS: The sixth annual "Principal for a (Half) Day" program, sponsored by the Eudora Schools Foundation, gives local community and business leaders a-close-up view of a day in the life of a principal. Participants will spend a morning with school principals to better understand their complex roles and to gain perspective on the school system from within. Community leaders, in turn, will share expertise and provide perspective on their business' needs and opportunities for collaboration.
"Inviting the community into our schools is mutually beneficial," said Shanda Hurla, ESF Executive Director, "This event creates a terrific opportunity for future partnerships that will benefit our vibrant community as a whole."
Each guest principal will spend time with the principals, faculty, and students, sharing ideas and learning about the school's day-to-day operations. Each school has crafted a unique itinerary for each of the guest principals, possibilities include:
Touring facilities
Talking with a students
Meeting with faculty
Participating in student activities or special events
At the conclusion of the morning's activities, all guest principals will convene together for a lunch hosted by Superintendent, Stu Moeckel.
"We are excited to have business and community leaders experience our schools first-hand with principals, teachers, staff members, and students," said Stu Moeckel, superintendent of schools. "We have a lot to be proud of -- as well as discussing future opportunities and challenges – and it will be a great time to share both."
2023 Guest Principals include: Dan Ashley, Lawrence, Kansas Police Department; Mark Blubaugh, Main St Scoops and Sweets; Stacie Blubaugh, Main St Scoops & Sweets; Molly Bradstreet, Eudora Community Member; Julie Branstrom, Heartland Community Health; Kim Criner Ritchie, Douglas County Administration – Sustainability; Alex Curnes, Eudora City Commission; Brendan Devereaux, Hamm, Inc.; Audra Fussell, Truity Credit Union; Kevyn Gero, City of Eudora; Beverly Gossage, Kansas State Senator; Brett Hartford, Just Food; Rob Hulse, Lawrence Board of REALTORS; Kevin Kelley, Dwayne Peaslee Technical Training Center; Steve Kelly, Lawrence Chamber, Douglas County Economic Development Corporation; Heather Krase Minnick, Douglas County District Court; Derek Kwan, Lied Center of Kansas, University of Kansas: Jessica Lehnheer, United Way of Kaw Valley; Jerrad Lewis, Lawrence Douglas County Housing Authority; Joris Meijs, Merck Animal Health; Jason Musick, Barbwire Barbecue; Priya Nibert, Bluejacket Crossing Vineyard & Winery; Heather Noble, Oread Orthodontics/McGrew Real Estate; Rob Richardson, Lawrence Douglas County Economic Development Corporation; Abby Robinson, Restore Chiropractic; Kevin Romary, Midco; Jennifer Schurle, Schurle Signs; Evan Sharf, LRG – Wendy's; Marlys Shulda, University of Kansas Endowment Association; Laura Smith, Eudora Community Navigator; Julie Van Foeken, NueroRestorative; and Therese Vink, City of Olathe.
The Eudora Schools Foundation is a nonprofit organization 501(c)(3) that generates resources, builds relationships, and champions public education in Eudora Public Schools. Founded in 2006, the Foundation exists to enhance the quality of education through partnerships with the community. Expenditures are primarily directed toward enhancing classroom instruction and impacting the broadest number of Eudora students.
###