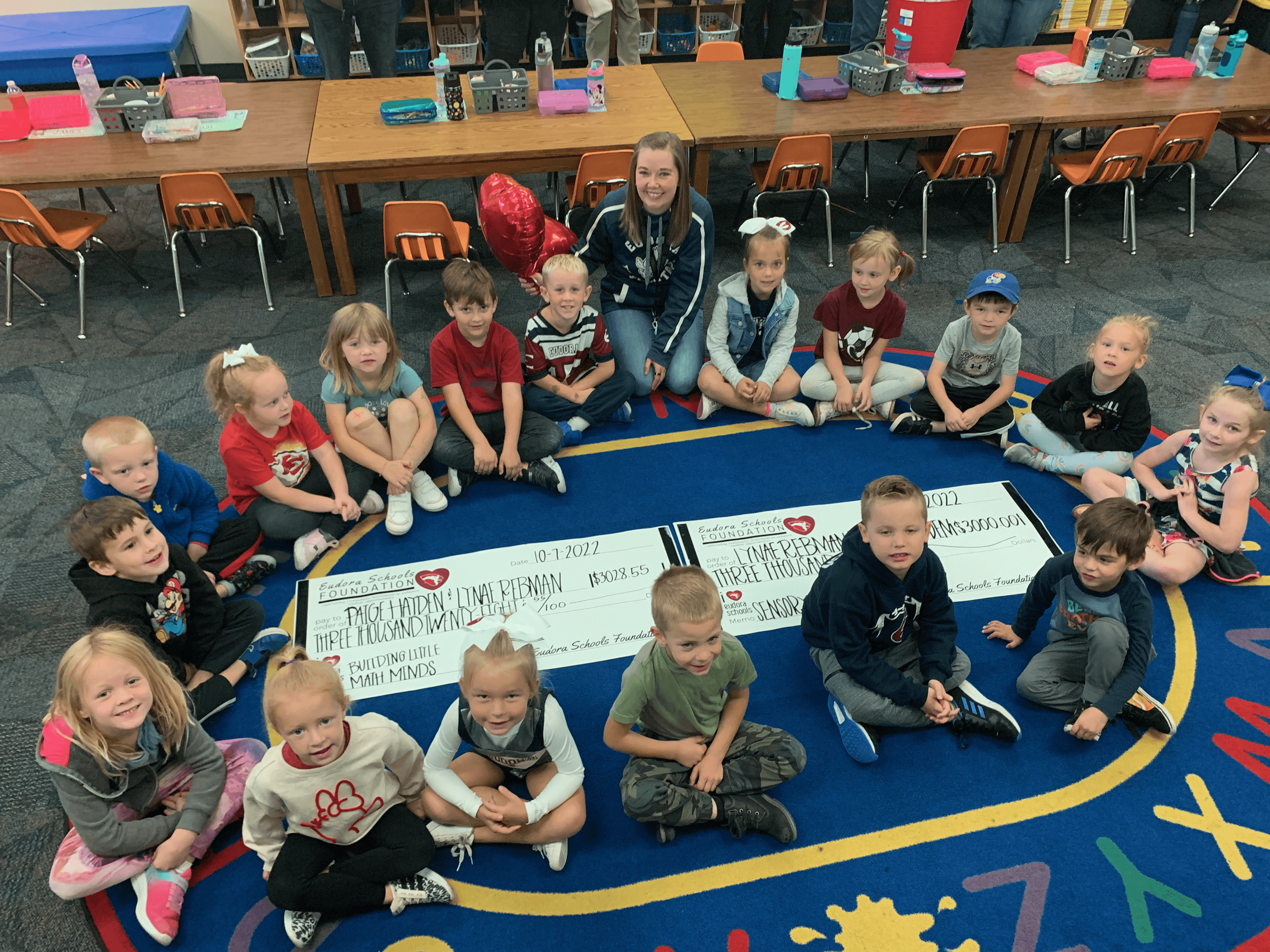 Eudora, KS: The Eudora Schools Foundation (ESF) announced today the award of more than $30,000 to fund 24 teachers' innovative programs in the Eudora school district. The grants help teachers establish programs to enhance student learning and success. The ESF has awarded over 170 grants and funded over $145,000 in classroom educational initiatives since 2006. This year's awards mark the highest amount of classroom grants given in the ESF's 16-year history.
"We salute all the teachers that continue to elevate the educational experience. We are happy to support and celebrate our teachers in their efforts," said Ed Hurtig, ESF President. "It is a great privilege to award these grants, all made possible by the support of our Foundation donors. Our donors have huge hearts shown by their amazing generosity.
The chosen projects will benefit students from preschool through 12th grade. Examples of the grants proposed include STEM projects, books and advancement curricula, technical education, and cross-curricular education. Grants were awarded in the following amounts:
Eudora Elementary School $19,000
Eudora Middle School: $6,000
Eudora High School: $6,000
Individual school grants and award recipients are listed below:
Eudora Elementary School
Bouncy Bands – enables students to use movement to help decrease distractions and help focus on the learning task. The bouncy bands provide students the opportunity to satisfy their movement needs, relieving anxiety, and hyperactivity without causing a distraction at the same time promoting concentration. Grant Recipient: Nicole Murphy
Building Little Math Minds – provides our kindergarten students with materials, tools, and centers to increase their number sense and overall math understanding. A strong number sense helps students build a robust foundation for all future mathematical understanding by allowing them to complete math tasks more quickly and to develop a math language which allows students to collaborate with their peers more easily. Recipients: Paige Hayden & Lynae Rebman
EES Physical Education – enhances all physical education classes by providing additional scooters for all students to participate during the class period and enhance the bowling unit with additional pins and bowling balls. Grant Recipient: Meghan Bettis
Expanding Expression Tool (EET) – provides additional speech-language resources for a variety of school staff with the goal of using multisensory approach to target language expression. Staff in all grade levels can use these materials in small group or whole class instruction to expand student's academic ability by using auditory, tactile, and visual models to better express themselves in oral and written form. Grant Recipients: Danielle Medlock, Shayna Messick, Ruth Foehringer, & Courtney Chacon.
Feeling Ready to Learn: Meeting Educational Needs Beyond Academics – enhances kindergarten and first grade special education resources by creating sensory spaces that allow students to achieve a positive state of well-being. As students access and utilize these spaces, they develop skills of self-awareness and self-regulation, facilitating opportunities for teaching of social emotional skills. The use of sensory spaces, promote a therapeutic, positive learning environment for all students, where strong and healthy relationships grow and thrive. Grant Recipients: Kassondra Mountain & Jennifer Ducey
Forces and Motion Extravaganza – provides third grade students the opportunity to gain multiple hands-on learning opportunities with building their own ramps, roller coasters, and using manipulatives to see how pulleys/pushes work. These STEM resources allow students to explore on their own through trial and error and how to fix a problem or make a solution better. Grant Recipient: Samantha Patrick
Growing Minds and Crops with Hydroponics – enriches students understanding of nutrition and sustainability through growing their own fruits and vegetables without soil. Students will learn about an innovative way to grow food and the science of cultivating plants in a nutrient-rich solution instead of soil. This hands-on experience of growing a garden helps students develop a deeper understanding of plant life.  Grant Recipient: Jennifer Decker
Kindergarten Friendship Tea – creates an opportunity for kindergarten students to practice self-management, socially appropriate behaviors, and become responsible decision makers and problem solvers in our school and with the broader community. The goal is to create an end-of-year celebration, that allows all kindergartens the opportunity to showcase these important social emotional and character development standards. Grant Recipient: Tammi Krebaum
Magnet Mania – provides third grade students the opportunities to explore magnetism, electromagnetism, electricity, and force in motion with circuit kits. Students would work with partners for experiments and problem-solving task.  Grant Recipient: Jordan Lorenzo
Morning STEM Tubs – enhances the third-grade classroom by providing students the opportunity to use STEM brain teasers, puzzles, and manipulatives for math, reading, class team-building activities, and social emotional enrichment. Grant Recipient: Jordan Lorenzo
Sensory Smart Classrooms – creates inclusive sensory classrooms that allows all students to utilize and benefit from sensory input in several ways from movement to hand strengthening to deep pressure and tactile learning. By incorporating these modes of learning, we proactively decrease distractions, poor behaviors, and disruptions. Grant Recipients: Lynae Rebman & Paige Hayden
Social Emotional Acuity Bridge – enhances the social-emotional learning resources for neurodiverse students. These resources help develop student independence, social connection, confidence, and community inclusion by providing using the Bridges Learning System, a game-based learning system, that aligns with current evidence-based practices. Grant Recipient: Courtney Chacon, Shayna Messick, Danielle Medlock & Ruth Foehringer
Eudora Middle School
3D Printers – provides extended learning students and Science Olympiad teams the opportunity to develop their coding skills while designing more stable parts for their engineering projects. Students will design their own parts for cars, Rube Goldberg projects, roller coasters, planes, models of cell molecules, and topographical maps. Grant Recipient: Barbie Hartwell
9 Square in the Air! – creates an opportunity for cross-curricular collaboration among several classes and student groups to design, build, and create a 9 Square in the Air game to be used by all middle school students during physical education classes and at the Outdoor Learning Center during Power Hour. Grant Recipients: Mitchell Tegtmeier, Alisa Galvin, Michelle Plegge, Danny Ruegsegger, & Nathan Coulson
Book Club – allows seventh grade students to engage in authentic reading by giving them a selection of literary choice.  Students are encouraged to select a book from a given stack and participate in literature circle/book talks with students from the classroom.  Students will work at their own pace, reading what they chose to read and actively talking and engaging in curriculum-based activities. Grant Recipient: Angie Kennedy
Drone Education – provides middle school and high school extended learning students the opportunity to use a Tello Edu Drones to gain a more in depth understanding into many STEAM topics including aeronautics, artificial intelligence, coding languages, engineering, problem solving concepts, and computations. Grant Recipient: Barbie Hartwell
Growing with Games – provides sixth grade students in their English Language Arts class the ability to enrich their vocabulary skills while engaging in a variety of games and activities with their peers that help promote growth in vocabulary skills. It will help students break apart words, identify word parts, and create sentences based upon a given set of words or ideas. Grant Recipients: Heather Moore & Amy Giffin
Pickleball Nets – allows health & physical education classes to expand their lifetime sport unit by having portable and standard size nets for learning the game of pickleball. In addition, the pickleball unit often allows for retired community members to come participate and teach middle school students about this popular sport. Grant Recipient: Sondra Garner
Soccer Goals for EMS – provides all health & physical education classes the ability to expand their soccer curriculum unit and create an amazing supplement to the EMS Outdoor Learning Center. Grant Recipients: Sondra Garner, Mitchell Tegtmeier & Brandon Parker

Eudora High School
CAD Lab 3D Printer & Camera – provides students in CAD II the ability to use 3D Printers to focus on modeling and moving assembly parts. The Wi-Fi box with camera allows documenting of prints in real and elapsed time to help troubleshoot print success and problems. These resources provide hands-on experiences that cannot be replaced by simulation and other teaching methods, in addition, to the potential for cross-curricular development. Grant Recipient: Scott Lickteig
Lego Unboxing! – allows students in Cardinal Productions to create unique unboxing videos which are some of the most watch content on YouTube. This unique video project promotes creativity, but also requires the students' ability to mentally tune in with a one-take video, by having a better-prepared written script, well-planned shots with creative edits, long before the one-take videos are even filmed. Grant Recipient: Nate Robinson
Class set of Light Emissions Tubes and Power Supply – provides chemistry, physical science, earth/space science, and physic student the opportunity to do experiments regarding element emission spectra. This helps students understand about the elements produced by stars and how light can spread into individual colors based on the element. Grant Recipient: Morning Pruitt
Fastest Cardinal in Eudora – creates the opportunity for health & physical education students to have instant feedback on their running and training performance with accurate and valid data through FX timing chips. This enhances our training by collecting baseline data and to do by-week training sessions on speed. Grant Recipient: Scott Russell
Let Them Play Games – enhances the learning of students by providing them with engaging language development opportunities. Due to the collaborative nature of board games, students will increase their face-to-face interactions and develop their vocabulary. In our increasing celerity to get task accomplished and teach students how to be productive members of society, we should slow down and let students know that playing games is important to their development as well. [Celerity (noun) a high rate of movement or performance] Grant Recipient: Cynthia Andrews
The Eudora Schools Foundation is a nonprofit organization 501(c)(3) that generates resources, builds relationships, and champions public education in Eudora public schools. Founded in 2006, the Foundation exists to enhance the quality of education through partnerships with the community. Expenditures are primarily directed toward enhancing classroom instruction and impacting the broadest number of Eudora students. https://www.eudoraschoolsfoundation.org
###