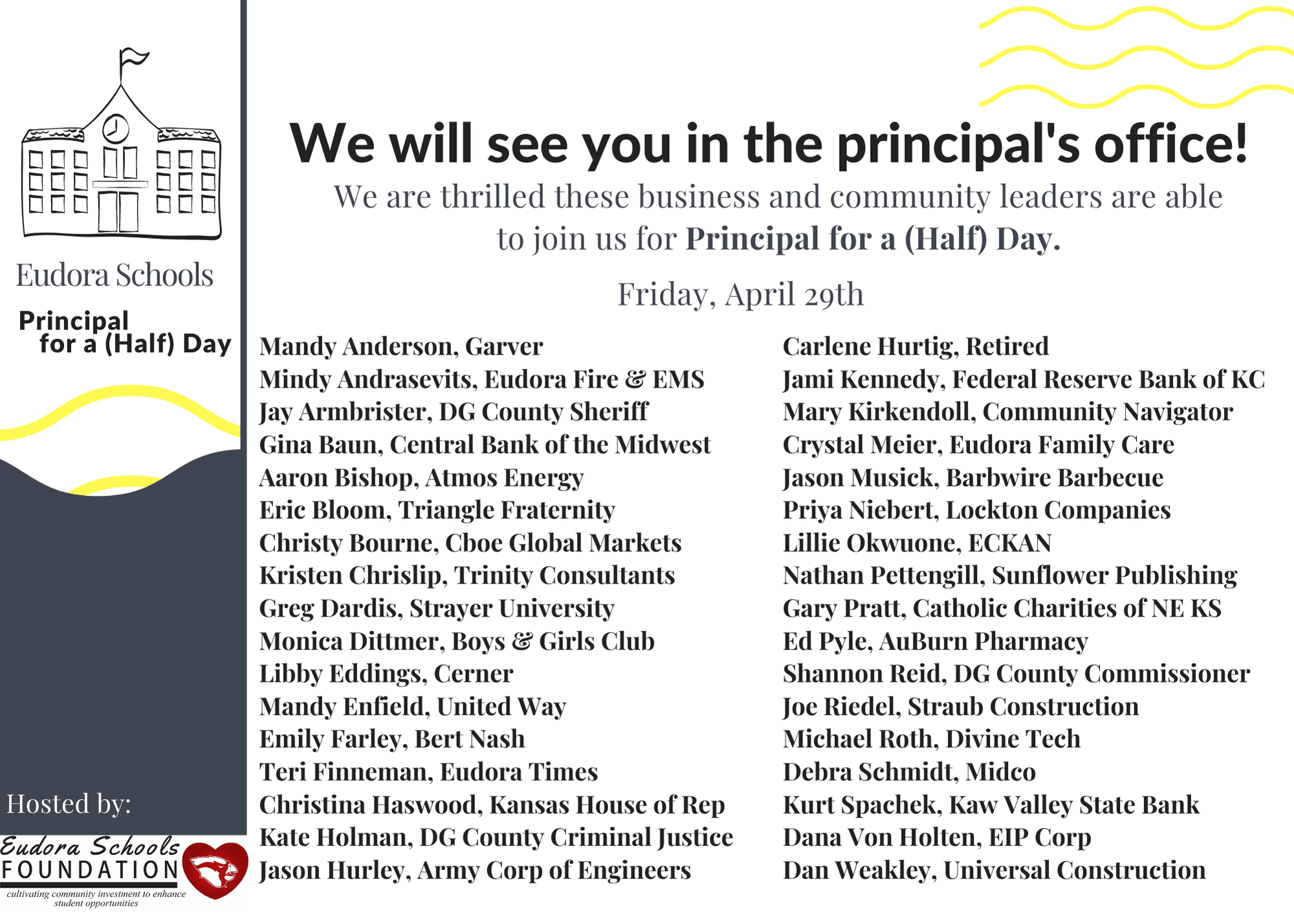 Community and business leaders will serve as "Principal for a (Half) Day" at Eudora Schools
Friday, April 29, 2022; Eudora, KS: The fifth annual "Principal for a (Half) Day" program, sponsored by the Eudora Schools Foundation, gives local community and business leaders a-close-up view of a day in the life of a principal. Participants will spend a morning with school principals to better understand their complex roles and to gain perspective on the school system from within. Community leaders, in turn, will share expertise and provide perspective on their business' needs and opportunities for collaboration.
"Inviting the community into our schools is mutually beneficial," said Shanda Hurla, ESF Executive Director, "This event creates a terrific opportunity for future partnerships that will benefit our vibrant community as a whole."
Each guest principal will spend time with the principals, faculty, and students, sharing ideas and learning about the school's day-to-day operations.  Each school has crafted a unique itinerary for each of the guest principals, possibilities include:
Touring facilities
Talking with a class
Meeting with faculty
Participating in student activities or special events
At the conclusion of the morning's activities, all guest principals will convene together for a lunch hosted by Superintendent, Stu Moeckel.
"We are excited to have business and community leaders experience our schools first-hand with principals, teachers, staff members, and students," said Stu Moeckel, superintendent of schools. "We have a lot to be proud of -- as well as discussing future opportunities and challenges – and it will be a great time to share both."
2022 Guest Principals include: Mandy Anderson, Garver; Mindy Andrasevits, Eudora Fire & EMS; Jay Armbrister, Douglas County Sheriff's Office; Gian Baun, Central Bank of the Midwest; Aaron Bishop, Atmos Energy; Eric Bloom, Triangle Fraternity; Christy Bourne, Cboe Global Markets; Kristen Chrislip, Trinity Consultants; Greg Dardis, Strayer University; Monica Dittmer, Boys & Girls Club of Lawrence; Libby Eddings, Cerner; Mandy Enfield, United Way; Emily Farley, Bert Nash; Teri Finneman, Eudora Times; Christina Haswood, Kansas House of State Representatives; Kate Holman, Douglas County Criminal Justice and Youth Services; Jason Hurley, Army Corps of Engineers; Carlene Hurtig, Retired: Jami Kennedy, Federal Reserve Bank of Kansas City; Mary Kirkendoll, Douglas County Community Navigator; Crystal Meier, Eudora Family Care; Jason Musick, Barbwire Barbecue; Priya Niebert, Lockton Companies; Lillie Okwuone, ECKAN; Nathan Pettengill, Sunflower Publishing; Gary Pratt, Catholic Charities of Northeast Kansas; Ed Pyle, AuBurn Pharmacy; Shannon Reid, Douglas County Commissioner; Joe Riedel, Straub Construction; Michael Roth, Divine Technology; Debra Schmidt, Midco; Kurt Spachek, Kaw Valley State Bank; Dana Von Holten, EIP Corp; and Dan Weakley, Universal Construction.
The Eudora Schools Foundation is a nonprofit organization 501(c)(3) that generates resources, builds relationships, and champions public education in Eudora Public Schools. Founded in 2006, the Foundation exists to enhance the quality of education through partnerships with the community. Expenditures are primarily directed toward enhancing classroom instruction and impacting the broadest number of Eudora students.
###