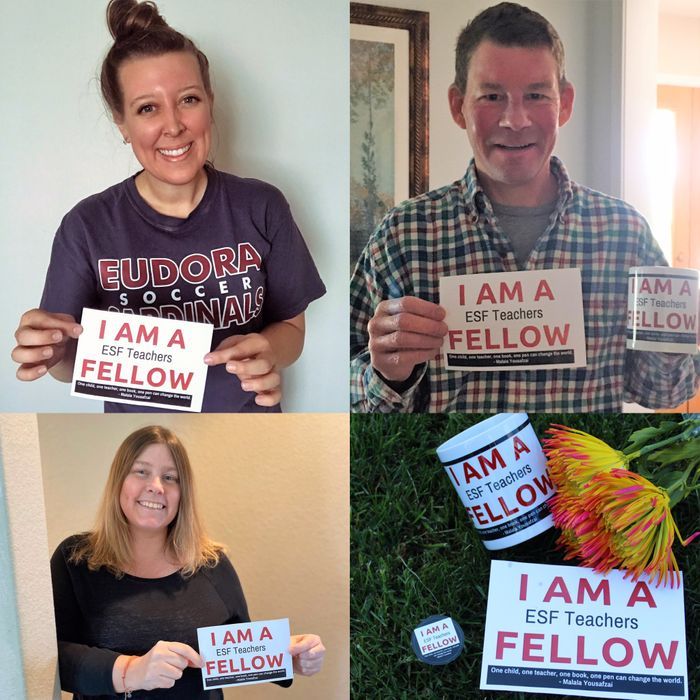 Eudora Schools Foundation Announces 2020 Teacher Fellow Grant Recipients
Wednesday, April 15, 2020; Eudora, KS: The Eudora Schools Foundation (ESF) announced today the winners of the ESF Teacher Fellowships. Staff submitted proposals describing individual plans to design and implement a high-quality professional development project to address the needs of their students.
"The review committee was so impressed with the effort and thought that each of the candidates put in to their application in order to take full advantage of the Fellowship opportunity. Now that we have reached this stage, we are beyond grateful for the passion and vision of the recipients. It is an honor for the Foundation to be able to support their efforts," said Matt Bova, ESF Board Member.
This is the first time, the ESF has awarded two different fellowships. A team of staff members, Chris Lounsbury and Jennifer Pate, from Eudora Elementary School (EES) will spend the next academic year being trained as LETRS (Language Essentials for Teachers of Reading and Spelling) Facilitator Trainers. The second fellowship recipient, Sarah Weirick, is a teacher at Eudora High School (EHS), who will spend the next year researching and designing a program with the intended outcome of training all staff to have a better understanding of student socioeconomic disadvantages and the impact on student achievement.
The 2020-2021 ESF Teacher Fellows:
Sarah Weirick, Eudora High School, English Language Arts Instructor
Christopher Lounsbury, Eudora Elementary School, Reading Instructor
Jennifer Pate, Eudora Elementary School, 3rd Grade Special Education Instructor
"We are excited to become LETRS facilitators which allows us to provide ongoing professional development and coaching for our teachers at Eudora Elementary School," said Christopher Lounsbury, EES Reading Instructor. "This is a needed venture and it will provide current research-based practices that can be applied to all level of readers regardless of age and ability. This model helps to fill in gaps in students learning that often hinder more advanced reading development."
"I am hoping to explore the achievement gap within our district and learn how to take steps to close this gap," said Sarah Weirick, EHS English Language Arts Instructor. "I genuinely feel like we have students whose achievement is struggling due to their socioeconomic status. I want all students to be successful…I believe achievement problems goes beyond the walls of a school. I want to reach beyond and discover ways in which I can bring community members and parents together to pursue goals."
"We are so proud of our teachers and in this specific case with Sarah Weirick's Fellowship Proposal," said Ron Abel, EHS Principal. "Sarah has shown herself to be a very caring instructor dedicated to her students.  She is always working to make herself a better educator, and to find answers and solutions that benefit every student in her classroom. Sarah will do put great effort into this professional development opportunity, and know she willingly share with her cohort peers."
Over the past three years, the ESF has significantly invested in the Teacher Fellows program that allows school district professional staff to explore, design, and create an opportunity to make a significant impact on student and teacher success.
Previous ESF Teacher Fellows:
2019-20 Teacher Fellows: Collaborative Problem Solving
Jessica Johnson, EHS Academic Support Instructor;
Susan DeVoe, EHS Wrap Worker;
Michelle Plegge, EMS Counselor
2018-19 Teacher Fellowship: Lost at School
Kelly Mulvihill, EES Kindergarten Instructor;
Ashli Olivera, EES Technology Instructor;
Dace' Inbody, EES Special Education Instructor
The Eudora Schools Foundation is a nonprofit organization (501(c)(3) that generates resources, builds relationships, and champions public education in Eudora Public Schools. Founded in 2006, the Foundation exists to enhance the quality of education through partnerships with the community.  
###