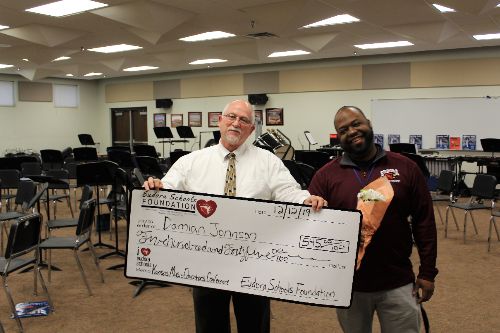 Eudora Schools Foundation Announces 2020 Regional Professional Development Scholarships
Thursday, December 2019; Eudora, KS: The Eudora Schools Foundation (ESF) announced today the award of more than $7,000 to five teachers in the Eudora school district. Teachers apply for regional professional development scholarships in order to fund additional professional learning opportunities that they can bring back and implement in their classrooms.
"The Eudora Schools Foundation continues to be impressed and inspired by the creativity that our teachers bring forward to enhance their professional learning," said Chrissy Mayer, ESF President. "We are grateful for the opportunity to recognize teachers through the generous contributions of our donors." 
The chosen teacher professional development scholarship proposals will ultimately benefit students from kindergarten through 12th grade in the areas of music, science, and literacy.
Individual professional development scholarships are listed below:
Damian Johnson – Instrumental Music Teacher, Eudora Middle School & High School
Kansas Music Educators Conference – offers music educators support by fostering leadership opportunities, professional development, and promoting the advocacy of music learning in schools and communities. The Kansas Music Educators Association is an organization that is committed to the concept that the study of music is a positive influence in the lives of individuals and society as a whole.
Heather Moore – 6th Grade English Language Arts Teacher, Eudora Middle School
Plain Talk about Literacy and Learning Conference – is herald as the nation's premier literacy institute. The institute gain its reputation because of its clear focus on providing evidence-based reading research and strategies for those who teach all ages and grade levels. From the national's leading researchers, participants will learn the current findings on reading instruction, reading difficulties, and reading intervention.
Kyle Stadalman – 7th Grade Science Teacher, Eudora Middle School
Julie Splichal – Science Teacher, Eudora High School
Barbie Hartwell – Extend Learning Teacher, Eudora School District
National Science Teacher Association Conference – offers the latest in science content, teaching strategy, and research to enhance and expand science teachers' professional growth. The conference is a unique opportunity to collaborate with science education leaders and peers. Each year, NSTA hosts a national science conference including a STEM Forum and Expo. 
"We are very pleased to team up with the District to provide these additional opportunities to our deserving staff," said Shanda Hurla, ESF Executive Director. "We appreciate the time and dedication that Mark Dodge, the district's Director of Communications and School Improvement, along with the district's Professional Development Committee gave to the review and selection process of these scholarships. We look forward to these teachers bringing back their ideas to fuel innovation in their classrooms." 
The Eudora Schools Foundation is a nonprofit organization 501(c)(3) that generates resources, builds relationships, and champions public education in Eudora public schools. Founded in 2006, the Foundation exists to enhance the quality of education through partnerships with the community. Expenditures are primarily directed toward enhancing classroom instruction and impacting the broadest number of Eudora students. https://www.eudoraschoolsfoundation.org
###