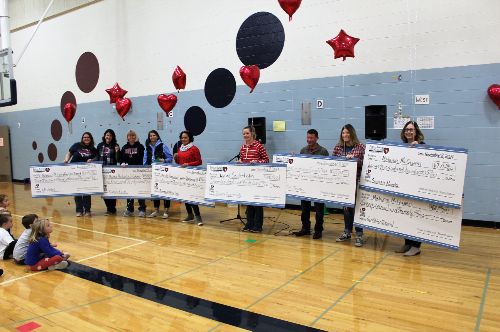 Eudora Schools Foundation Announces 2019 Teacher Excellence Grant Recipients
Friday, November 8, 2019; Eudora, KS: The Eudora Schools Foundation (ESF) announced today the award of more than $17,000 to 21 teachers in the Eudora school district. Teachers apply for grants for innovative programs that enhance student learning and success in the classroom. Since 2006, the ESF has funded more than 120 projects across the district totaling more than $100,000 in classroom educational initiatives.
"The Eudora Schools Foundation continues to be impressed and inspired by the creativity that our teachers bring forward annually to enhance student learning experiences through the Teacher Excellence Grant applications," said Chrissy Mayer, ESF President. "We are grateful for the opportunity to recognize teachers through the generous contributions of our donors."
The chosen projects will benefit students from kindergarten through 12th grade. Examples of the grants proposed include STEM projects, books and advancement curricula, technical education, career and college readiness, and cross-curricular education. Grants were awarded in the following amounts:
Eudora Early Childhood Program: $3,670
Eudora Elementary: $7,920
Eudora Middle School: $2,820
Eudora High School and WEBS Bridges Program: $2,950
Individual school grants and award recipients are listed below:
Eudora Early Childhood Program
 Movement Motor Lab – provides preschool and kindergarten students the opportunity to increase foundational gross motor development through multiple sensory paths and resources. These increased movement opportunities and tools coupled with specialized programming will enrich early learners' overall abilities to successfully participate in a classroom setting and improve their high-level academic learning. Grant Recipients: Nicole Ramirez & Lauren Blakeborough
 Preschool Music Enrichment– allows preschool students the opportunity to explore and experience music by promoting the inclusion of all students of all abilities. Music enrichment will focus on movement, instrument playing, singing, and rhythm to meet the developmental needs of preschoolers. In addition, professional on-site training for teaching staff on how to implement music strategies in their daily classroom routines. Grant Recipient: Melissa McCauley
Eudora Elementary School
 LETRS Trainers – enables two staff members to be professionally trained and serve as Language Essentials for Teachers of Reading and Spelling (LETRS) trainers and facilitators to provide all elementary school staff with renowned, research-based, instruction tools to teach language and literacy skills to every student. Trainers will put their new learning to practice in their own classrooms and engage colleagues by sharing insights to understand current practices and create a vision for how LETRS will strengthen teaching and help students be successful and competent life-long readers. Grant Recipients: Christopher Lounsbury & Jennifer Pate Page 
 Kindergarten Science Explorer Lab – provides kindergarten students with real world science explorer lab gear. Students will use lab coats, goggles, and lab accessories during their "Think Like a Scientist" lessons. Giving these young students a sense of a true science environment where experimenting, failing, collaborating, adjusting, repetition, growth, learning, and success happens like a real-world science lab. Grant Recipient: Lynae Soderholm
 Sphero Robots – allows students from kindergarten to eighth grade to experience STEM activities through a fun and engaging method using Sphero robots. Students will learn and develop technology skills through applications and coding. It provides students with the opportunity to be exposed to an engaging gaming-style of learning by giving students a hands-on approach to higher level critical thinking skills and collaboration with other students. Grant Recipients: Barbie Hartwell & Jill Stutler
 Ukuleles – enables students to learn an easy-to-play, melodic, stringed instrument giving them a richer understanding of beat and chord progressions. The ukuleles will diversify the elementary school music program and the instruments that students are exposed to in elementary school. Students learning to play ukuleles in class will have a richer understanding of music, in addition, it will expand the possibilities of school performances. Grant Recipients: Rebecca Killen & Kendra Temaat
Eudora Middle School
 Cardinal Coffee Crew – provides an opportunity for life-skills students to improve and enhance their social, academic, and prevocational skills by opening a coffee cart business. Students will work to grow the business, and develop roles within the business. They will get hands-on learning with money, appropriate manners, and social interactions. Focus will be placed on encouraging each student to work at their highest level of independence. Grant Recipients: Kristyn Fish, Jean Bouse, Hillary Brunin, Abbey Vieux-Revell
 Gimkit for Español– allows elementary and middle school Spanish language learners the opportunity to use Gimkit to introduce Spanish language concepts and vocabulary. Gimkit brings learning, collaboration, and strategy together in a way that is engaging to students through gamified digital tools. The goal is to build students' Spanish language reading and listening skills. Grant Recipient: Melanie McQueen
 Hydroponic Garden – enables seventh grade students to gain a better understanding of heredity and genetics by using a hydroponic garden system in the classroom. Students learn the concepts of expressed traits by observing, predicting, and testing the occurrence of dominant or recessive traits in plants. In addition, it provides hands-on insight into alternative ways to grow crops, showcasing how minimal space can be used quickly and efficiently to grow a variety of plants. Grant Recipient: Kyle Stadalman
 Spanish Novels – enhances elementary and middle school Spanish language instruction by using comprehension-based novels to help students acquire language faster and better. The novels incorporate illustrations, cognates, high-frequency vocabulary, culture, and humor, plus a low-word count, making them perfect for beginning Spanish students at the elementary and middle school levels. Grant Recipient: Melanie McQueen
Eudora High School
 Senior Internship Resources – provides career and life planning students with several classroom resources to understand emotional intelligence and students' individual strengths. Students will learn how their talents, skills, strengths can be used in their everyday lives as potential tools for personal growth and career satisfaction through these assessments. The ultimate goal is to equip students with self-knowledge and resourceful tools to use in preparation for the transition out of high school into the adult world. Grant Recipient: Cathie Klein
 Video Editing Hard Drives – enhances digital media and video students' ability to shoot 4K by video editing on an external hard drive. The ability to shoot 4K allows students to pull into a frame to create sharp images the latest resolution standard, and allows for deeper exploration with the cameras. Students will gain advanced experience by shooting everything in 4K which other high schools have not had the opportunity to do. Grant Recipient: Nate Robinson 
 Design Cameo – allows high school mathematics students and teaching pathway students the opportunity to create and produce their own designs and visual aids by using a professional Silhouette Cameo for course application. Students will use the design cameo to produce materials to aid in visual learning and to create lesson plans and visual learning tools. Grant Recipient: MaryJo Swann
 Spanish TV Series – enhances high school Spanish language learners' ability to understand from native speakers in a natural language through a Spanish TV series. The series includes El Tiempo Entre Costuras, a spy drama set during the Spanish Civil War and World War II, and Gran Hotel, a drama set within the workings of a fancy hotel in Spain. The series allows students to learn at the speed they choose, with pre- and post-viewing activities to aid in their comprehension. Grant Recipient: Kim Lancaster
 Parallel Drafting Boards – provides students with better drafting equipment to increase their abilities and success in the classroom. This equipment gives students the background knowledge to encourage and help students achieve excellence in drafting. By providing students with the essential equipment for success, many students will continue with the drafting program and possibly pursue a career in a related field. Most university engineering programs require the student to have an understanding of, and even be able to draw or draft as a prerequisite to a related field of study. Grant Recipient: Scott Lickteig
East Central Kansas Cooperative in Education
 Bridges Candy Creations – allows the special education students in the Bridges Program to expand their business "Candy Creations" by providing them with a color copier to enhance their candy bouquets. The Bridges Program provides students with disabilities the opportunity to learn marketable skills such as how to research, market, produce, and sell items, especially candy bouquets to residents in the Wellsville, Eudora, and Baldwin school districts. Residents can order a candy bouquet for a special celebration and Bridges students create and deliver them. Grant Recipient: Sheila Vander Tuig
The Eudora Schools Foundation is a nonprofit organization 501(c)(3) that generates resources, builds relationships, and champions public education in Eudora public schools. Founded in 2006, the Foundation exists to enhance the quality of education through partnerships with the community. Expenditures are primarily directed toward enhancing classroom instruction and impacting the broadest number of Eudora students. https://www.eudoraschoolsfoundation.
###