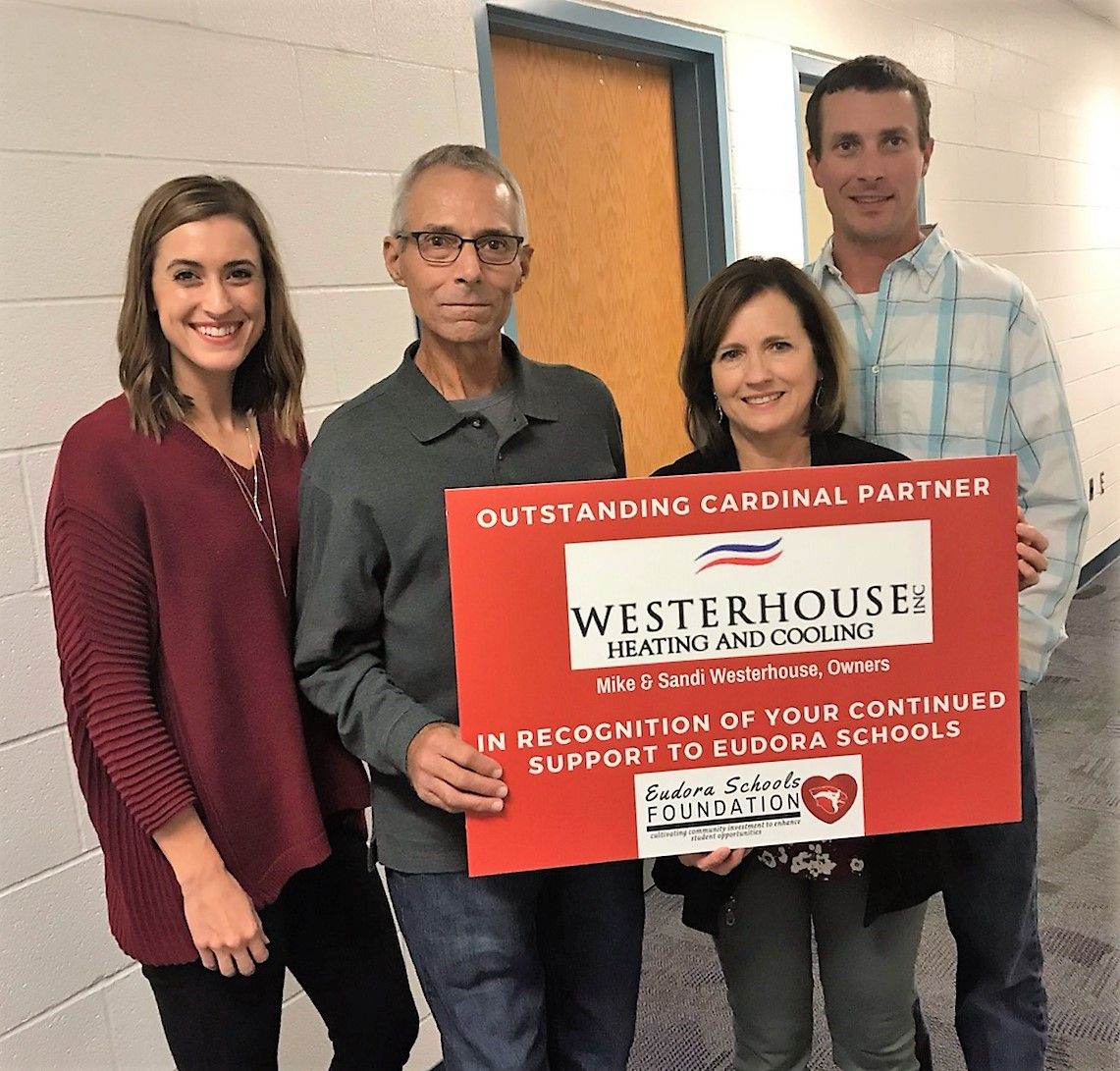 Congratulations to Westerhouse Heating & Cooling. -  2019 Eudora Schools Foundation Outstanding Cardinal Partner. Westerhouse Heating & Cooling was recognized during the Eudora USD 491 Board of Education meeting today for their continued support of Eudora Schools. BOE member Bryan Maring thanked owners Mike & Sandi Westerhouse and their employees. Maring highlighted the numerous contributions Westerhouse Heating & Cooling has made in support of district students and staff, including:
Serving as a Technical Education Advisory Board member
Donating equipment and labor to the technical trades program.
Supporting EHS athletics and activities
Serving as a guest principal at Eudora Elementary
Participating and sponsoring the Eudora Schools Foundation annual charity golf tournament
"Westerhouse Heating and Cooling understands the role that they play in helping Eudora graduates meet college and career readiness standards," said Steve Splichal, Superintendent. "Mike and his staff were key partners in our new home construction program. Westerhouse recognized the important opportunity for our students to build careers in a field demanding skilled workers. They made a tremendous investment in time and resources to provide our students with the experience of building the HVAC system for the new home. Our students received a quality experience from a leader in the industry."
Ron Abel, Eudora High School principal said, "Westerhouse Heating and Cooling and specifically Mike Westerhouse have been long time industry advisors to our district's Career and Technical Education programs.  Mike willingly and selflessly has given of his time to help provide support that improves the skill development of our students.  It is this tireless commitment to helping others that makes Mike and Sandi such valued partners.  The Westerhouses are a model community partner, and we are so happy to give them back recognition for their efforts."
The Eudora Schools Foundation honors local businesses and community organizations that contribute to and partner with Eudora schools. Each fall, schools have the opportunity to nominate a business to be recognized for their contributions and their commitment to the students and staff in our district. 
"We are thrilled to honor Mike & Sandi Westerhouse and their staff for going above and beyond in donating their resources and time to support our students and staff," said Shanda Hurla, ESF Executive Director. "They provide a great example of the variety of support and mutually beneficial partnerships that can happen in our community and schools. We are so appreciative of the Westerhouse family."
"I really enjoy giving to the kids and families that have been so gracious and loyal to me for all these years. It is a small part for what the community has done for me. My family, my employees, and I appreciate the recognition," said Mike Westerhouse, owner. "I started the heating and cooling company in 1977…The partnership with Eudora school district has been very pleasant. They have always been open to ideas and appreciative of how little or how much we could do. I look forward to the continued partnership."
The Eudora Schools Foundation is a nonprofit organization 501(c)(3) that generates resources, builds relationships, and champion's public education in Eudora Public Schools. Founded in 2006, the Foundation exists to enhance the quality of education through partnerships with the community. Expenditures are primarily directed toward enhancing classroom instruction and impacting the broadest number of Eudora students.
###