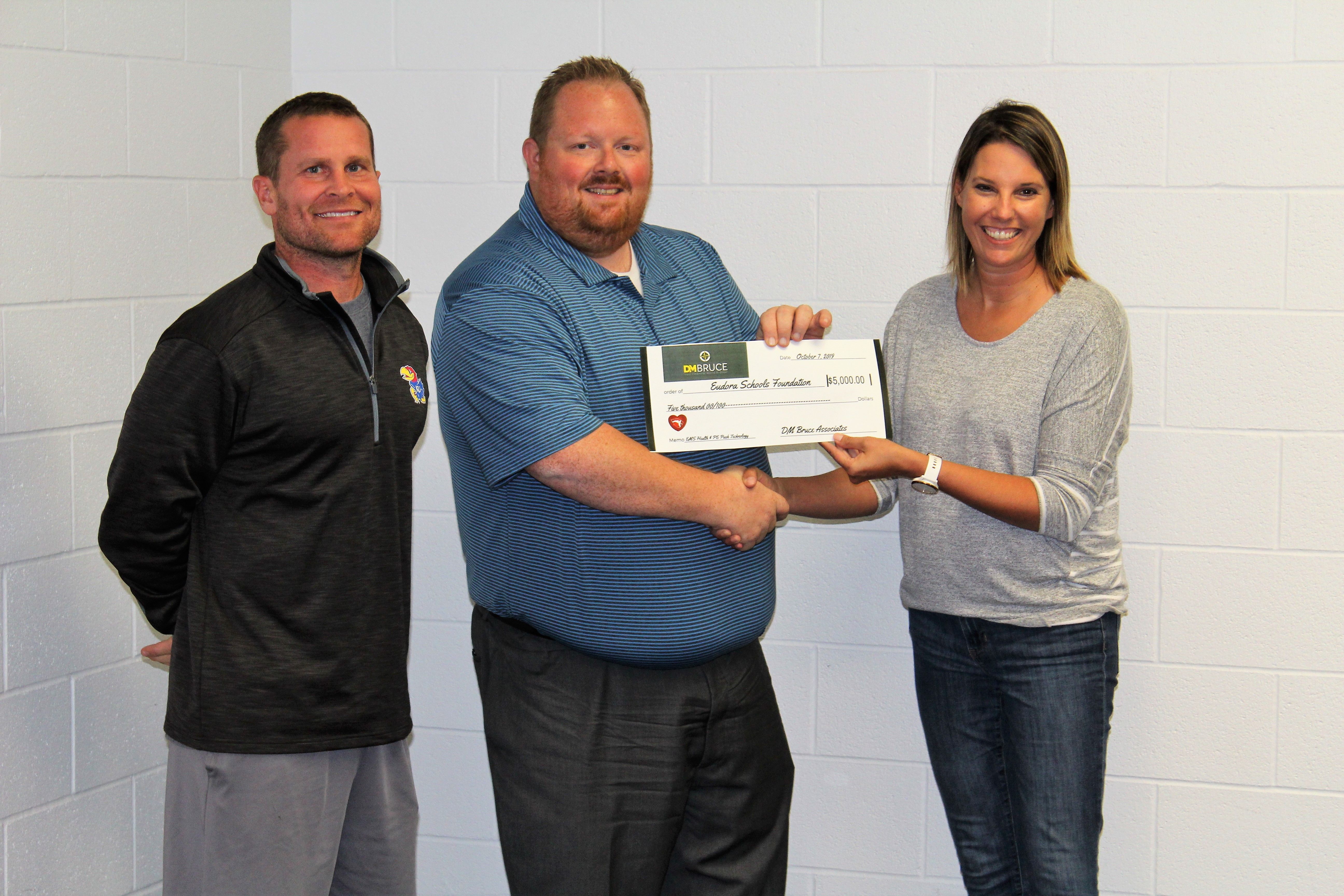 Kevin Bruce with DM Bruce Associates Donates $5000 toward Health & Physical Education Programs at Eudora Middle School
Wednesday, October 9, 2019; Eudora, KS: Continuing his support of Eudora students, Kevin Bruce with DM Bruce Associates presented the Eudora Schools Foundation with a check for $5000 recently. His donation supports velocity training technology to be use in the Eudora Middle School (EMS) Health and Physical Education programs. 
"We are so excited to add PUSH technology to our physical education department because it allows us to blend science and fitness together," said Brandon Parker, Health & Physical Education Instructor. "PUSH will allow students the opportunity to incorporate our force and motion curriculum in science to the weight room.  We want our physical education to become a brand-new piece of S.T.E.M. curriculum. The possibilities with this program are endless and we can't thank Mr. Bruce enough for making this happen for our students. It is donations like this that continue to allow our students at EMS unique learning opportunities."
Mr. Bruce served as a guest principal at EMS in February 2019. From that experience he became aware of the innovative programs that EMS health & physical education staff are incorporating into their classroom and summer conditioning programs.  
"By Mr. Bruce coming forward with this generous donation, it will allow us to take a huge step forward in terms of technology integration into our physical education program," said Mitchell Tegtmeier, Health & Physical Education Instructor. "The incorporation of the PUSH technology allows us to objectively track performances in our class workouts, as well as weightlifting clubs." 
"We are grateful to Kevin Bruce and DM Bruce Associates for seeing this as an opportunity to make a difference in our schools," said Shanda Hurla, ESF Executive Director. "Their desire for our middles school students to increase their productivity in their physical activity combined with students understanding the math and science behind the new velocity technology is commendable."
The Eudora Schools Foundation is a nonprofit organization (501(c)(3) that generates resources, builds relationships, and champions public education in Eudora Public Schools. Founded in 2006, the Foundation exists to enhance the quality of education through partnerships with the community.
###