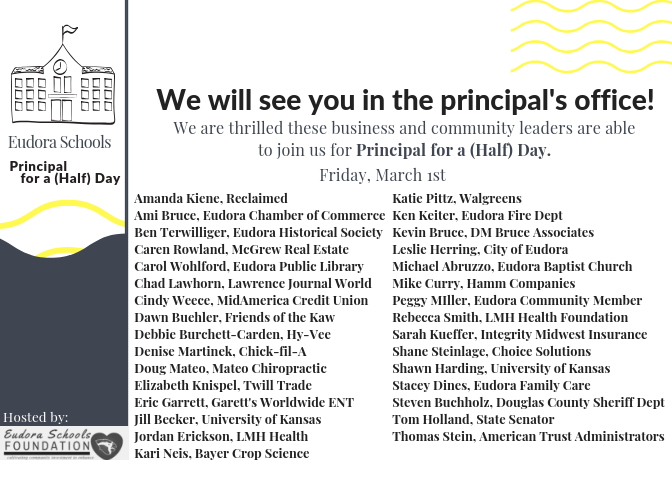 Local Community and Business Leaders Become School Principals for a (Half) Day
Friday, March 1, 2019; Eudora, KS: The third annual "Principal for a (Half) Day" program, sponsored by the Eudora Schools Foundation, gives local community and business leaders a-close-up view of a day in the life of a principal. Participants will spend a morning with school principals to better understand their complex roles and to gain perspective on the school system from within. Community leaders, in turn, will share expertise and provide perspective on their business' needs and opportunities for collaboration.
"Inviting the community into our schools is mutually beneficial," said Shanda Hurla, ESF Executive Director, "This event creates a terrific opportunity for future partnerships that will benefit our vibrant community as a whole."
Each guest principal will spend time with the principals, faculty, and students, sharing ideas and learning about the school's day-to-day operations.  Each school has crafted a unique itinerary for each of the guest principals, possibilities include:
Touring facilities
Talking with a class
Meeting with faculty
Participating in student activities or special events
At the conclusion of the morning's activities, all guest principals will convene together for a lunch hosted by Superintendent, Steve Splichal.
"We are excited to have business and community leaders experience our schools first-hand with principals, teachers, staff members, and students," said Steve Splichal, superintendent of schools. "We have a lot to be proud of -- as well as ongoing challenges – and it will be a great time to share both."
2019 Guest Principals include: Amanda Kiene, Reclaimed; Ami Bruce, Eudora Chamber of Commerce, Ben Terwilliger, Eudora Community Museum; Caren Rowland, McGrew Real Estate; Carol Wohlford, Eudora Public Library; Chad Lawhorn, Lawrence Journal World; Cindy Weece, MidAmerica Credit Union; Dawn Buehler, Friends of the Kaw; Debbie Burchett-Carden, Hy-Vee; Denise Martinek, Chick-fil-A; Douglas Mateo, Mateo Chiropractic; Elizabeth Knispel, Twill Trade; Eric Garrett, Garrett's World Wide Enterprises; Jill Becker, KU Libraries; Jordan Erickson, LMH-Sports Care; Kari Neis, Bayer Crop Science; Katie Pittz, Walgreens; Ken Keiter, Eudora Fire Department; Leslie Herring, City of Eudora; Michael Abruzzo, Eudora Baptist Church; Mike Curry, Hamm Companies; Peggy Miller, Eudora Community Member; Rebecca Smith, LMH Health Foundation; Sarah Kueffer, Integrity Midwest Insurance; Shane Steinlage, Choice Solutions; Shawn Harding, KU Facilities; Stacey Dines, Eudora Family Care; Steven Buchholz, Douglas County Sheriff's Department; Thomas Stein, American Trust Administrators; Tom Holland, Kansas State Senator.                   
###