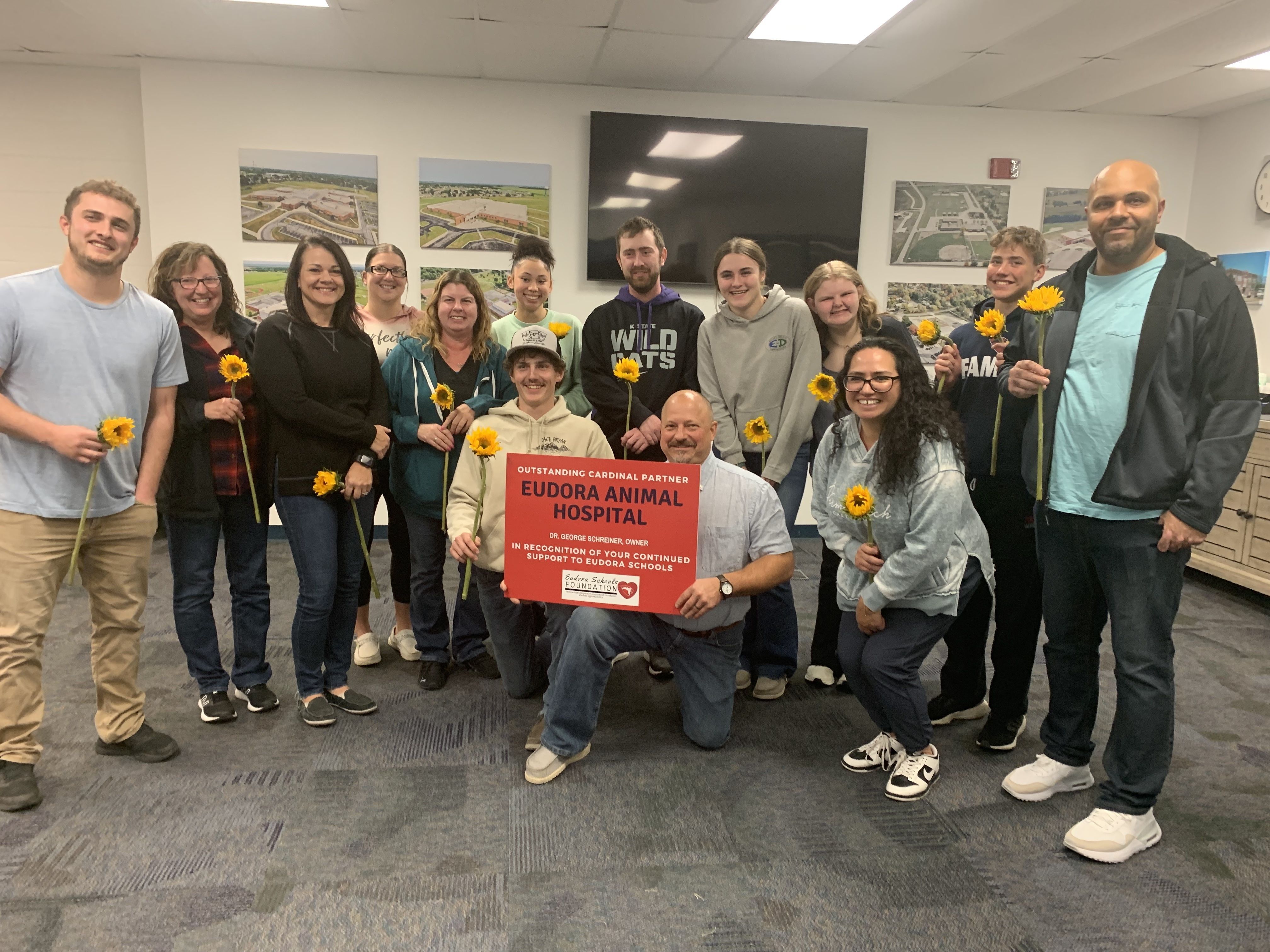 The Eudora Animal Hospital was recognized during the Eudora USD 491 Board of Education meeting tonight for their continued support of Eudora Schools. BOE member Heather Whalen thanked the owner, Dr. George SchreIner and his employees. Whalen highlighted the numerous contributions the Eudora Animal Hospital has made in support of district students and staff, including:
Donating product and services to the Cardinals Care Program.
Supporting athletics and summer conditioning programs.
Sponsoring teacher teams for the Eudora Schools Foundation annual charity golf tournament.
Sponsoring staff professional development with the Eudora Schools Dream Big Conference.
Supporting EES PTO, EMS & EHS Booster Clubs
Offering student job shadowing, internships and employment opportunities.
"The support that the Eudora School district has received from the Eudora Animal Hospital as well as their staff and families has been an immeasurable benefit to our students and the community as a whole," said Stu Moeckel, Superintendent. "They have been a valued piece to our community and have contributed mightily to the quality of education provided in the Eudora Schools. The students, staff, and community of Eudora proudly thank the Eudora Animal Hospital."
Jeremy Thomas, Eudora Middle School principal said, "Dr. Schreiner and his staff exemplifies the spirit of community and their support of education through their steadfast partnership with Eudora Schools. Their commitment goes beyond mere collaboration; it's a fusion of compassion and support that benefits everyone involved. From nurturing future professionals with student internships and job opportunities to backing a myriad of school activities and athletic programs. The Eudora Animal Hospital team are not just exceptional veterinarians and technicians but also invaluable community members."
The Eudora Schools Foundation honors local businesses and community organizations that contribute to and partner with Eudora schools. Each fall, schools have the opportunity to nominate a business to be recognized for their contributions and their commitment to the students and staff in our district. Previous Outstanding Cardinal Partners include:
2017-Gambino's
2018-Hamm, Inc.
2019-Westerhouse Heating & Cooling
2020-Kaw Valley State Bank
2021-Barbwire Barbecue
2022-Twill Trade
"We are thrilled to honor Dr. Schreiner and the Eudora Animal Hospital staff for going above and beyond in donating their resources and time to support our students and staff," said Shanda Hurla, ESF Executive Director. "For years, they have provided a great example of the variety of support and mutually beneficial partnerships that can happen in our community and schools. We are so appreciative of the Eudora Animal Hospital."
"Our patients are beloved furry family members to our community and school members and we feel it is important to support them," said Dr. George Schreiner, owner of the Eudora Animal Hospital.
The Eudora Schools Foundation is a nonprofit organization 501(c)(3) that generates resources, builds relationships, and champion's public education in Eudora Public Schools. Founded in 2006, the Foundation exists to enhance the quality of education through partnerships with the community. Expenditures are primarily directed toward enhancing classroom instruction and impacting the broadest number of Eudora students.
###