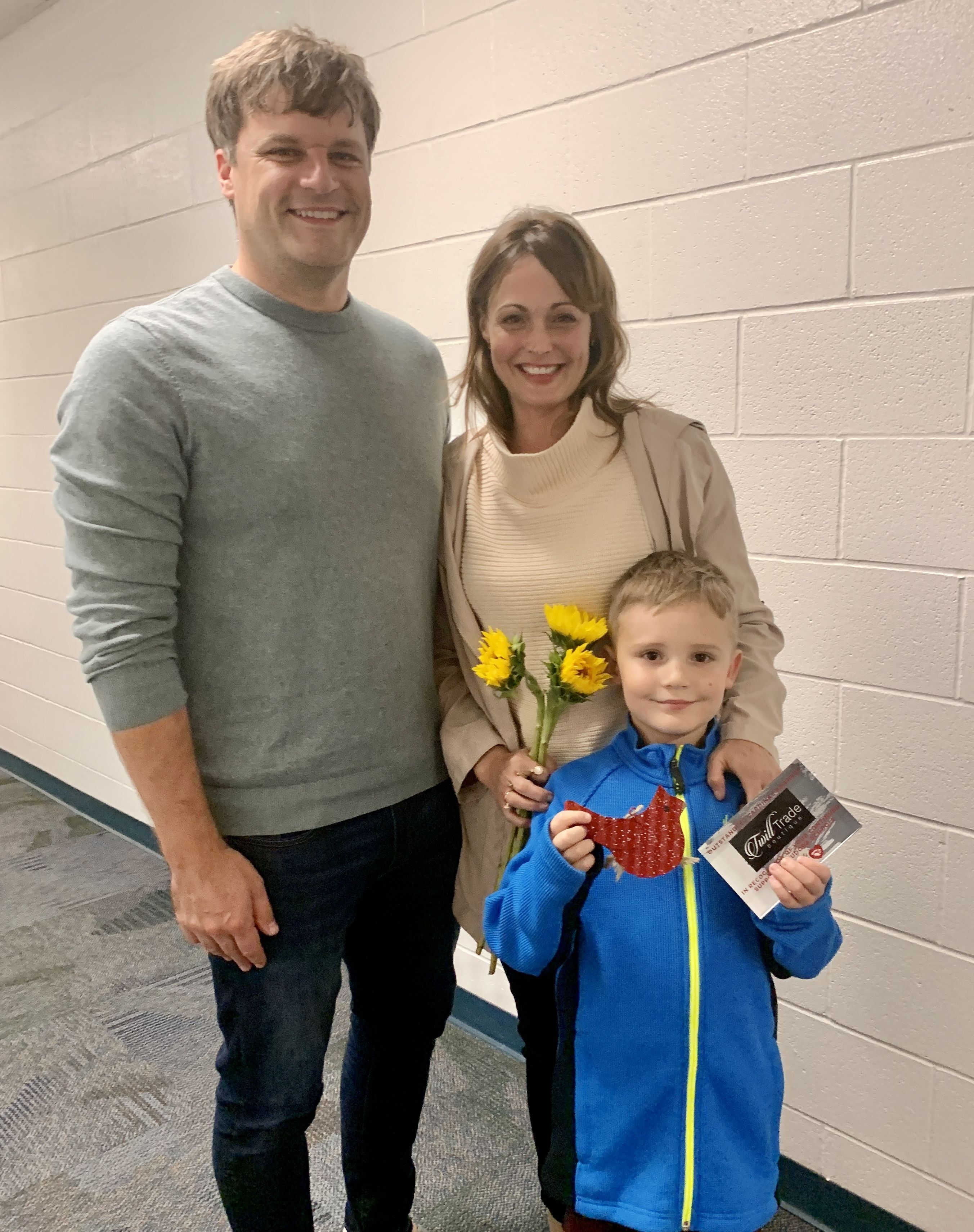 Congratulations to Twill Trade Boutique. - 2022 Eudora Schools Foundation Outstanding Cardinal Partner. Twill Trade was recognized during the Eudora USD 491 Board of Education meeting tonight for their continued support of Eudora Schools. BOE member Heather Whalen thanked owner, Elizabeth Knispel, the Knispel family, and her employees. Whalen highlighted the numerous contributions Elizabeth Knispel has made in support of district students and staff, including:
Hosting community events and charitable fashion show to benefit our students.
Donating product & labor to the Bird's Nest Boutique.
Supporting community and school activities with fundraising shopping nights and give-back programs.
Providing gift cards and support to employee incentive programs and initiatives to help our students in the most need.
Serving as a panelist for our EHS Career Connect Lunch and Learn.
Serving as a mentor to middle school students as part of the EMS Cardinal LinkUP program.
"We are very fortunate to have community partners like Twill Trade," said Stu Moeckel, Superintendent. "They have been vital to the success of our Bird's Nest boutique and have hosted and provided opportunities for others in the community to participate and share their good fortune. Beyond the business support, Elizabeth has personally served and as a mentor in our linkup program at EMS and provided expertise to our EHS students serving as a panelist on our career connect program.  Elizabeth and her business have supported the students, staff and, families of USD #491 through monetary, time, and expertise to have a tremendous impact for our Cardinal family.  Thank you to Elizabeth and Twill Trade."
Jeremy Thomas, Eudora Middle School principal said, "Elizabeth has been an amazing supporter for all of Eudora schools but especially for Eudora Middle School. She has served as a mentor for our Cardinal Linkup Mentoring Program that continues to grow and impact students in a big way because of mentors like Elizabeth! She makes the commitment to be here at every meeting and helps build positive relationships with our students! Our staff have also been recipients of prizes that included amazing products from her store. Eudora Schools cannot thrive without the partnership with our community and businesses like we have with Elizabeth and Twill Trade."
The Eudora Schools Foundation honors local businesses and community organizations that contribute to and partner with Eudora schools. Each fall, schools have the opportunity to nominate a business to be recognized for their contributions and their commitment to the students and staff in our district. Previous Outstanding Cardinal Partners include:
2017-Gambino's      2018-Hamm, Inc.      2019-Westerhouse Heating & Cooling        
2020-Kaw Valley State Bank     2021-Barbwire Barbecue
"Each year it is wonderful to recognize the impact that businesses have in our schools. This year is no exception - we are thrilled to honor Elizabeth Knispel and the Twill Trade Boutique staff for going above and beyond in donating their resources and time to support our students and staff," said Shanda Hurla, ESF Executive Director. "They provide a great example of the variety of support and mutually beneficial partnerships that can happen in our community and schools. We are so appreciative of Elizabeth and her staff.
"Our kids are the absolute best part of our community," said Elizabeth Knispel, owner of Twill Trade Boutique. "Why not invest in the best pieces, they'll give us our biggest returns."
The Eudora Schools Foundation is a nonprofit organization 501(c)(3) that generates resources, builds relationships, and champion's public education in Eudora Public Schools. Founded in 2006, the Foundation exists to enhance the quality of education through partnerships with the community. Expenditures are primarily directed toward enhancing classroom instruction and impacting the broadest number of Eudora students.
###