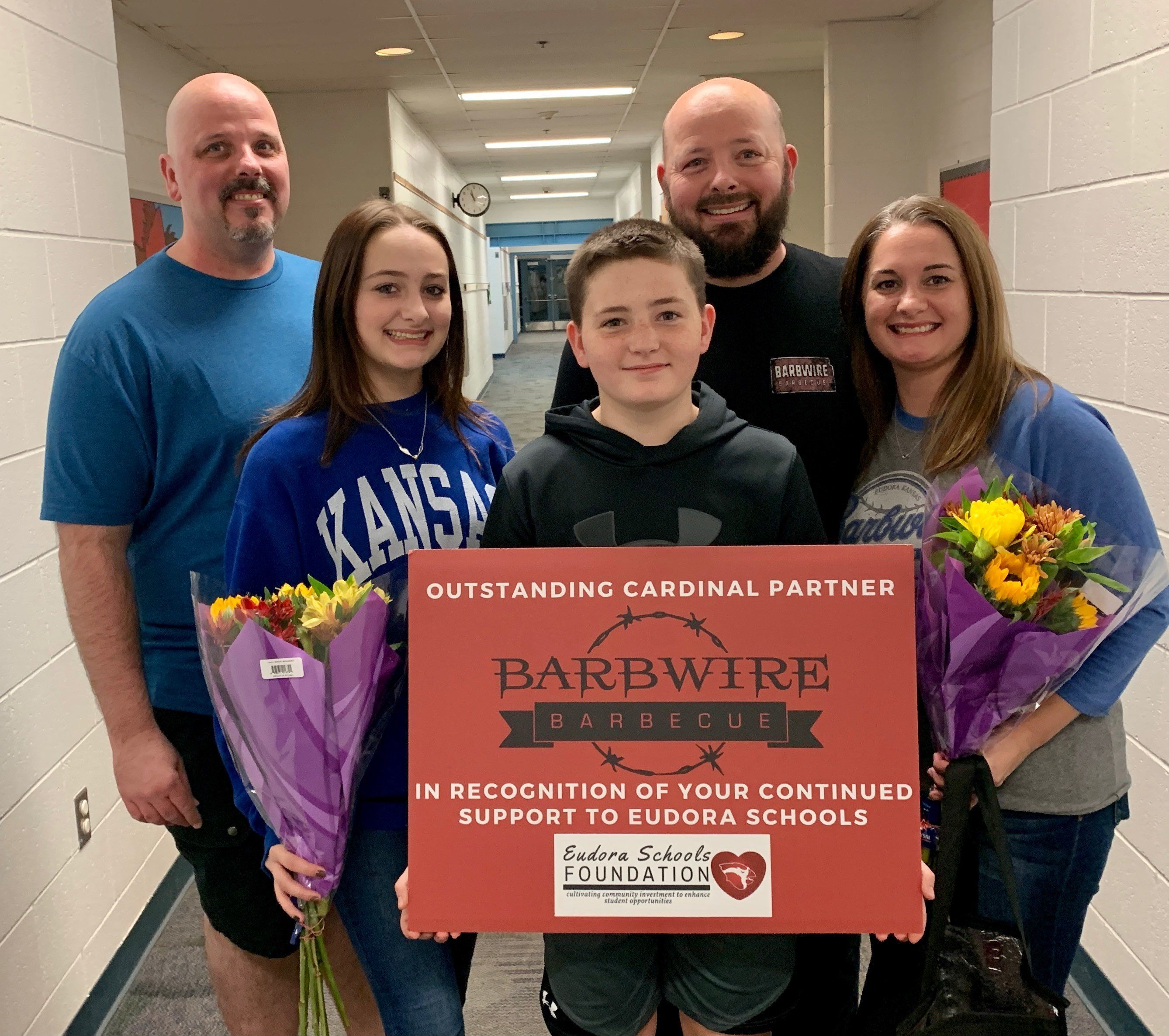 Congratulations to Barbwire Barbecue. - 2021 Eudora Schools Foundation Outstanding Cardinal Partner. Barbwire Barbecue was recognized during the Eudora USD 491 Board of Education meeting tonight for their continued support of Eudora Schools. BOE member Samantha Arredondo thanked owners, the Musick family, and their employees. Arredondo highlighted the numerous contributions Jason and Jay Musick have made in support of district students and staff, including:
Catering school staff appreciation luncheon.
Donating product & labor to EHS Booster Club for their pull pork fundraiser.
Supporting EHS athletics and activities.
Supporting monthly give back programs to the district and the Eudora Schools Foundation.
Lunch Sponsor of the Eudora Schools Foundation's annual golf tournament that funds classroom grants across the district.
Providing holiday meals for two of our district families in need.
"Not only do the owners, Jay and Jason, make the best barbecue around, they are amazing supporters of our district and community," said Stu Moeckel, Superintendent. "We are fortunate to be able to rely on them for everything from fundraisers to team meals.  They always provide exceptional food as well as tremendous service. When local businesses like Barbwire support our students, staff, and families, like Jay and Jason, the sky is the limit."
Jeremy Thomas, Eudora Middle School principal said, "Jay and Jason at Barbwire Barbecue are what makes this community so special. They are not just trying to run a great new restaurant, but they truly have some of the best barbecue in the region. What makes them stand out is their willingness to support our students and staff. We have had them cater food for our staff on different occasions and the hospitality is second to none. I hope our community continues to support Barbwire like they support Eudora Schools."
The Eudora Schools Foundation honors local businesses and community organizations that contribute to and partner with Eudora schools. Each fall, schools have the opportunity to nominate a business to be recognized for their contributions and their commitment to the students and staff in our district. Previous Outstanding Cardinal Partners include:
2017-Gambino's      2018-Hamm, Inc.      2019-Westerhouse Heating & Cooling         2020-Kaw Valley State Bank
"Each year it is wonderful to recognize the impact that businesses have in our schools. This year is no exception - we are thrilled to honor Jason & Jay Musick and their Barbwire Barbecue staff for going above and beyond in donating their resources and time to support our students and staff," said Shanda Hurla, ESF Executive Director. "They provide a great example of the variety of support and mutually beneficial partnerships that can happen in our community and schools. We are so appreciative of the Musick family."
"We believe supporting our local schools and kids are extremely important because it allows our community to be stronger," said Jason Musick. "Our mom was a schoolteacher for many years.  We saw the amount of work that she put in both inside and outside of the classroom to help kids get the best education that they could, as well as the amount of personal money she spent to do so. Our donations and efforts to the Schools Foundation is one way that we try to help our teachers.  Our donations to the various activity organizations, we hope, also allow for students to enrich their lives outside of the classroom."
The Eudora Schools Foundation is a nonprofit organization 501(c)(3) that generates resources, builds relationships, and champion's public education in Eudora Public Schools. Founded in 2006, the Foundation exists to enhance the quality of education through partnerships with the community. Expenditures are primarily directed toward enhancing classroom instruction and impacting the broadest number of Eudora students.
###