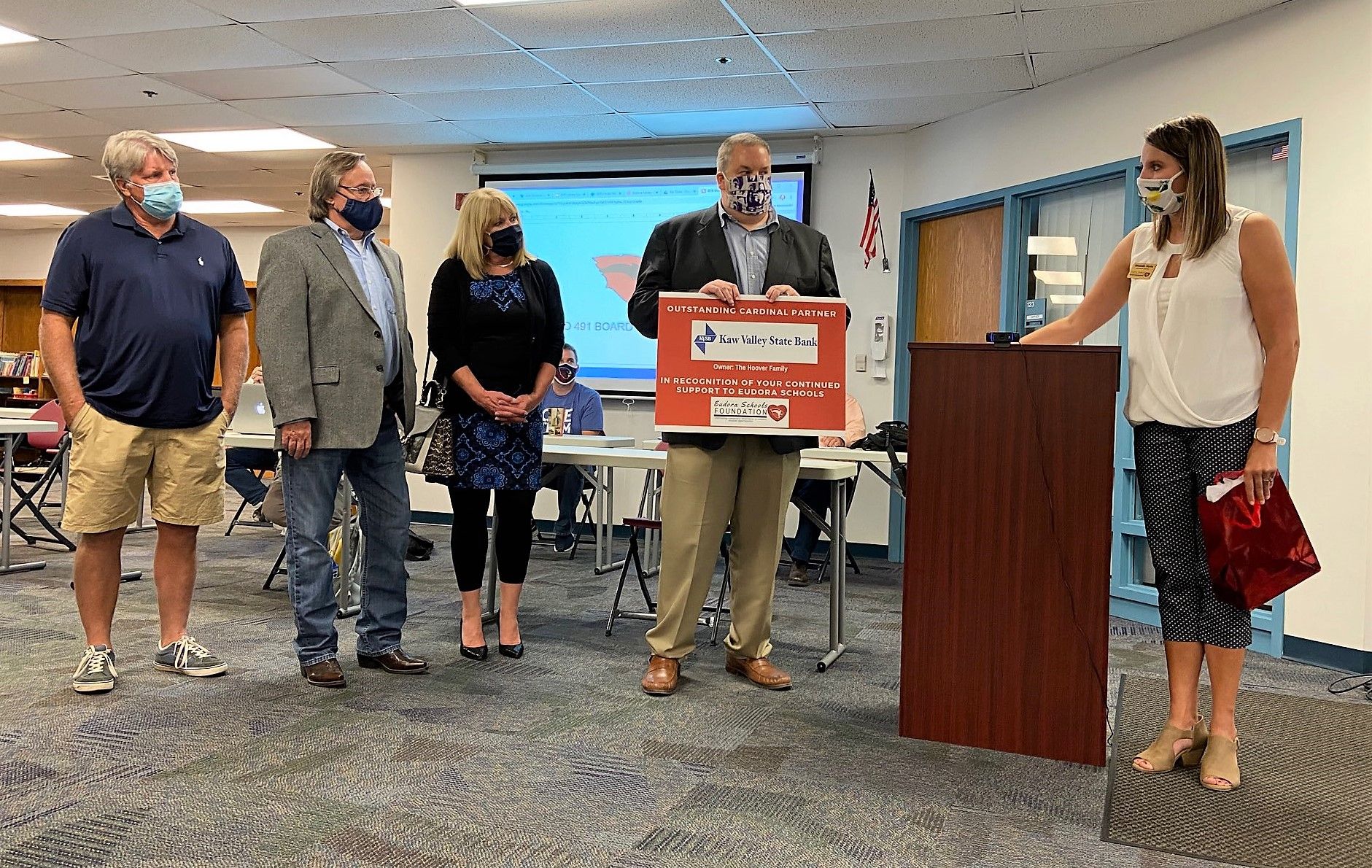 Congratulations to Kaw Valley State Bank. -  2020 Eudora Schools Foundation Outstanding Cardinal Partner. Kaw Valley State Bank was recognized during the Eudora USD 491 Board of Education meeting tonight for their continued support of Eudora Schools. BOE member Samantha Arredondo thanked owners, the Hoover family, and their employees. Arredondo highlighted the copious contributions Kaw Valley State Bank has made in support of district students and staff, including: 
Supporting Eudora High School graduates with an annual scholarship
Sponsoring books for Eudora Elementary students unable to purchase books from the annual book fair
Hosting field trips to Kaw Valley State Bank  Supporting district education, athletic and cultural programs
Partnering to create the Eudora Elementary and Eudora Middle School Outdoor Learning Centers
Participating in student mock interviews at Eudora High School and providing student bank internships
Numerous anonymous donations of financial support, equipment, resources, and time to our district
Co-hosting the Mobile Food Drive to support the Eudora Food Pantry during the COVID-19 pandemic
Serving as a founder of the Eudora Schools Foundation
Serving as a guest principal at Eudora Middle School, Eudora Elementary PTO, WatchDOG, Eudora Schools Foundation board treasurer, youth coach, and many other service initiatives in our community
Establishing and continuously sponsoring the Eudora Schools Foundation annual charity golf tournament that funds classroom grants across the district
Developing the Kaw Valley State Bank Cardinal Card that allows bank patrons to support Foundation programs. 
 "Kaw Valley State Bank has been a long-standing supporter of the Eudora School District and the community at large," said Steve Splichal, Superintendent. "They have provided opportunities for our students to better understand the business industry by serving on career panels, hosting tours, mock interviews and hiring student employees. Because of their leadership, our students have opportunities to broaden their knowledge and understanding of the world of business.  The Hoover Family and the Kaw Valley State Bank team understands the critical role they play in helping to prepare our students for the future." 
Ron Abel, Eudora High School principal said, " The support that the Eudora School district has received from Kaw Valley State Bank as well as the Hoover family has been an immeasurable benefit to our students and the community as a whole. They have been a valued piece to our community and have contributed mightily to the quality of education provided in the Eudora Schools.  The students, staff, and community of Eudora proudly thank Kaw Valley State Bank, and specifically the Hoover family." 
The Eudora Schools Foundation honors local businesses and community organizations that contribute to and partner with Eudora schools. Each fall, schools have the opportunity to nominate a business to be recognized for their contributions and their commitment to the students and staff in our district.  
"We are thrilled to honor the Hoover Family and their staff for going above and beyond in donating their resources and time to support our students and staff," said Shanda Hurla, ESF Executive Director. "For years, Jim and Carole Hoover have provided a great example of the variety of support and mutually beneficial partnerships that can happen in our community and schools, their sons and employees continue that tradition today. We are so appreciative of the Hoover family and Kaw Valley State Bank." 
"For more than 30 years our business and family have made it a priority to support the schools and the community. We are very proud of Eudora and we want to continue to work and improve our community and provide opportunities in our schools," said Jason Hoover, "My father, Jim, wanted to support anything to do with kids and to help kids do well in life. Because of his own life experiences, he wanted to make sure kids got the help they needed and to support programs that make that happen. He loved kids and he loved this community. We will keep doing what it takes to partner and make a difference." 
 The Eudora Schools Foundation is a nonprofit organization 501(c)(3) that generates resources, builds relationships, and champion's public education in Eudora Public Schools. Founded in 2006, the Foundation exists to enhance the quality of education through partnerships with the community. Expenditures are primarily directed toward enhancing classroom instruction and impacting the broadest number of Eudora students.
###