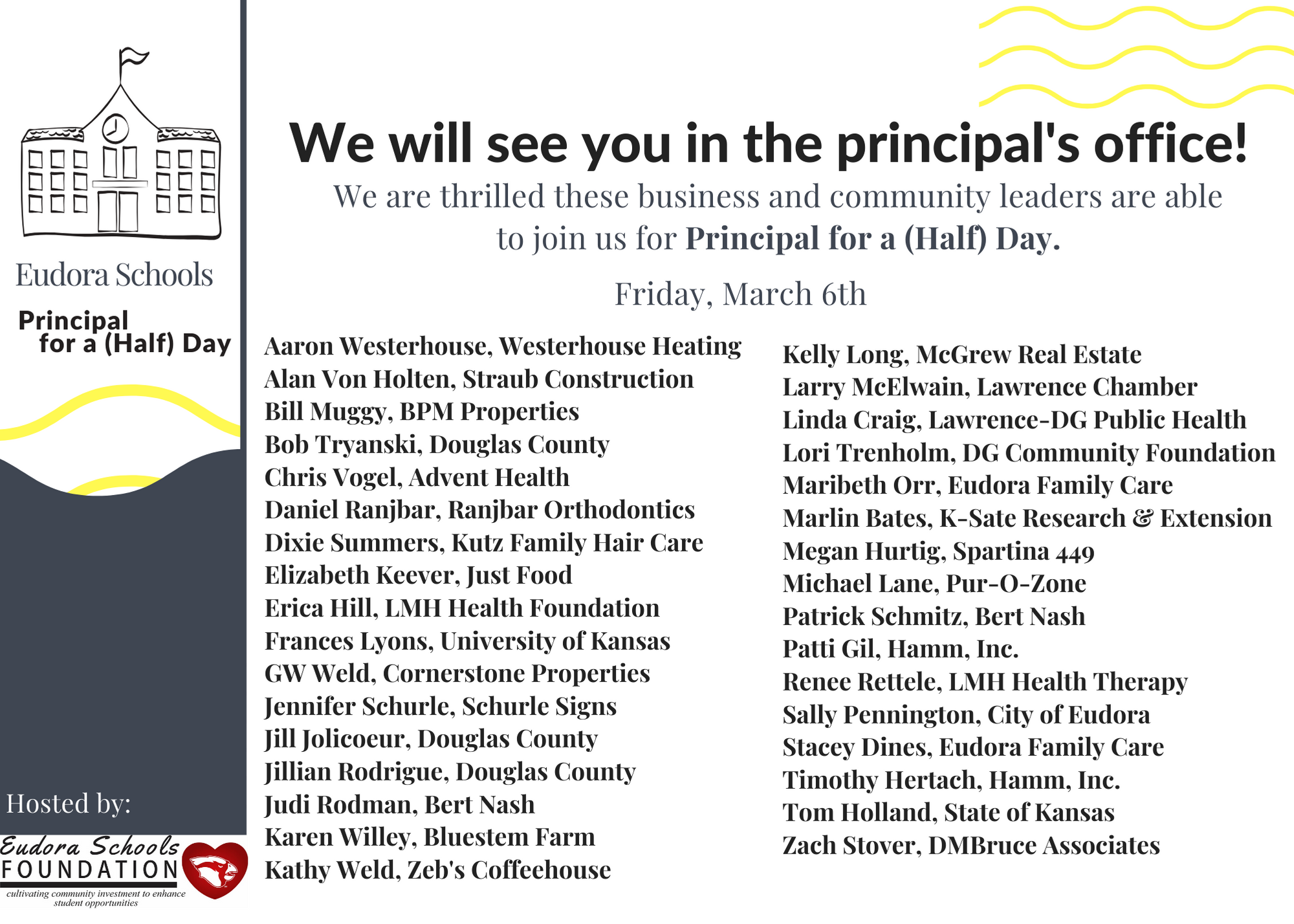 Community and business leaders will serve as "Principal for a (Half) Day" at Eudora Schools on  Friday, March 6th. 
 
Friday, March 6, 2020; Eudora, KS: The fourth annual "Principal for a (Half) Day" program, sponsored by the Eudora Schools Foundation, gives local community and business leaders a-close-up view of a day in the life of a principal. Participants will spend a morning with school principals to better understand their complex roles and to gain perspective on the school system from within. Community leaders, in turn, will share expertise and provide perspective on their business' needs and opportunities for collaboration. 
"Inviting the community into our schools is mutually beneficial," said Shanda Hurla, ESF Executive Director, "This event creates a terrific opportunity for future partnerships that will benefit our vibrant community as a whole."    
Each guest principal will spend time with the principals, faculty, and students, sharing ideas and learning about the school's day-to-day operations.  Each school has crafted a unique itinerary for each of the guest principals, possibilities include:
Touring facilities
Talking with a class
Meeting with faculty
Participating in student activities or special events  
At the conclusion of the morning's activities, all guest principals will convene together for a lunch hosted by Superintendent, Steve Splichal. 
 
"We are excited to have business and community leaders experience our schools first-hand with principals, teachers, staff members, and students," said Steve Splichal, superintendent of schools. "We have a lot to be proud of -- as well as ongoing challenges – and it will be a great time to share both."  

2020 Guest Principals include: Aaron Westerhouse, Westerhouse Heating & Cooling; Alan Von Holten, Straub Construction; Bill Muggy, BPM Properties; Bob Tryanski, Douglas County Behavioral Health; Chris Vogel, AdventHealth; Daniel Ranjbar, Ranjbar Orthodontics; Dixie Summers, Kutz Family Hair Care; Elizabeth Keever, Just Food; Erica Hill, LMH Health Foundation; Frances Lyons, University of Kansas – School of Journalism and Mass Communications; Gary Bunting, Douglas County Undersheriff; GW Weld, Cornerstone Property Management; Jennifer Schurle, Schurle Signs, Inc.; Jillian Rodrigue, Douglas Country Emergency Management; Judi Rodman, Bert Nash Community Mental Health Center; Karen Willey, Bluestem Farm; Kathy Weld, Zeb's Coffeehouse; Kelly Long, McGrew Real Estate; Larry McElwain, Lawrence Chamber of Commerce; Linda Craig, Lawrence-Douglas County Public Health; Lori Trenholm, Douglas County Community Foundation; Maribeth Orr, Eudora Family Care; Marlin Bates, K-State Research and Extension – Douglas County; Megan Hurtig, Spartina 449; Michael Lane, Pur-O-Zone; Patrick Schmitz, Bert Nash Community Mental Health Center; Patti Gil, Hamm, Inc.; Renee Rettele, LMH Health Therapy & Wellness-Eudora; Sally Pennington, City of Eudora; Stacey Dines, Eudora Family Care; Timothy Hertach, Hamm, Inc.; Tom Holland, Kansas State Senator; Zach Stover, DMBruce Associates.
### 
The Eudora Schools Foundation is a nonprofit organization 501(c)(3) that generates resources, builds relationships, and champions public education in Eudora public schools. Founded in 2006, the Foundation exists to enhance the quality of education through partnerships with the community. Expenditures are primarily directed toward enhancing classroom instruction and impacting the broadest number of Eudora students. https://www.eudoraschoolsfoundation.org